About us
General Information
From its establishment in 1996, T.L.K HOLDINGS has been growing as a pioneer of privately owned General Contractors in Vietnam and has gained significant experience in the construction field. Until today our company have been in the business of construction for more than a decade now and still counting. We has brought safety, quality and productivity to a variety of building construction projects. Under the situation that Japanese and foreign companies increase investment in Vietnam, we make efforts day-to-day to make "all customers" happy and to become a corporation needed by "society".
Our mission statement "THE SATISFACTION OF CUSTOMER IS THE SUCCESS OF TLK " – we are committed to bring the satisfaction to customers with our best services by high quality work with competitive prices in order to add more value for customers.
We aims to be indispensable presence for Vietnamese society by utilizing the strengths of our previous experience, footwork, network, and team work.  We would appreciate your continued cooperation.
Mission
Respects the Individual, Society, and strive to enrich Society in all ways, both materially and spiritually, through its business activities.
Vision
Integrity in mind, and aim to become a business enabler that can meet the needs of our customer.
Values
 Acting in alignment with personal and professional standard and values; keeping agreements; interacting consistently at all time with every one, everywhere.
 All ways have passion in the heart with calm brain, focusing intensely on issues, with strong will and momentum to succeed.
 Have the pioneer sprits, and undertaking new things with strong minds with creativity and ingenuity.
 Possessing a clear picture or idea of a desired future; communicating that vision and leading others to its achievement.
 Respect and accept the differences of individuals, making use of the diversity to enhance results.
History
 1996

Establishment of T.L.K construction

T.L.K was established and operating in the field of commercial, architectural design, M & E and construction

2000

Open Hanoi branch (Lac Viet)

Open Representative Office – Ha Noi Branch, Lac Viet

2002

Establishment of T.L.K M&E

2004

Sanyo's sale agent

Start Sanyo commercial products business (sale agent) in Vietnam, Cambodia and Laos

2009

Establishment of Good Life Co., Ltd

Establishment of Good Life Co., Ltd – proccessing and exporting tropical fresh fruits to Japan, Korea markets and European countries.

2010

General contractor for Family Mart Vietnam

General contractor for Family Mart Vietnam(Building, Interior, and refrigerated showcase)

2011

General contractor for Ministop

General contractor for Ministop(Building, Interior, and refrigerated show case)

2013

Establishment of T.L.K new office

2014

General contractor for Aeon Citimart Go Vap

General contractor for Aeon Citimart Go Vap (Building, Interior, and refrigerated display case)

2016

Establishment of T.L.K Holdings Company
Organization Chart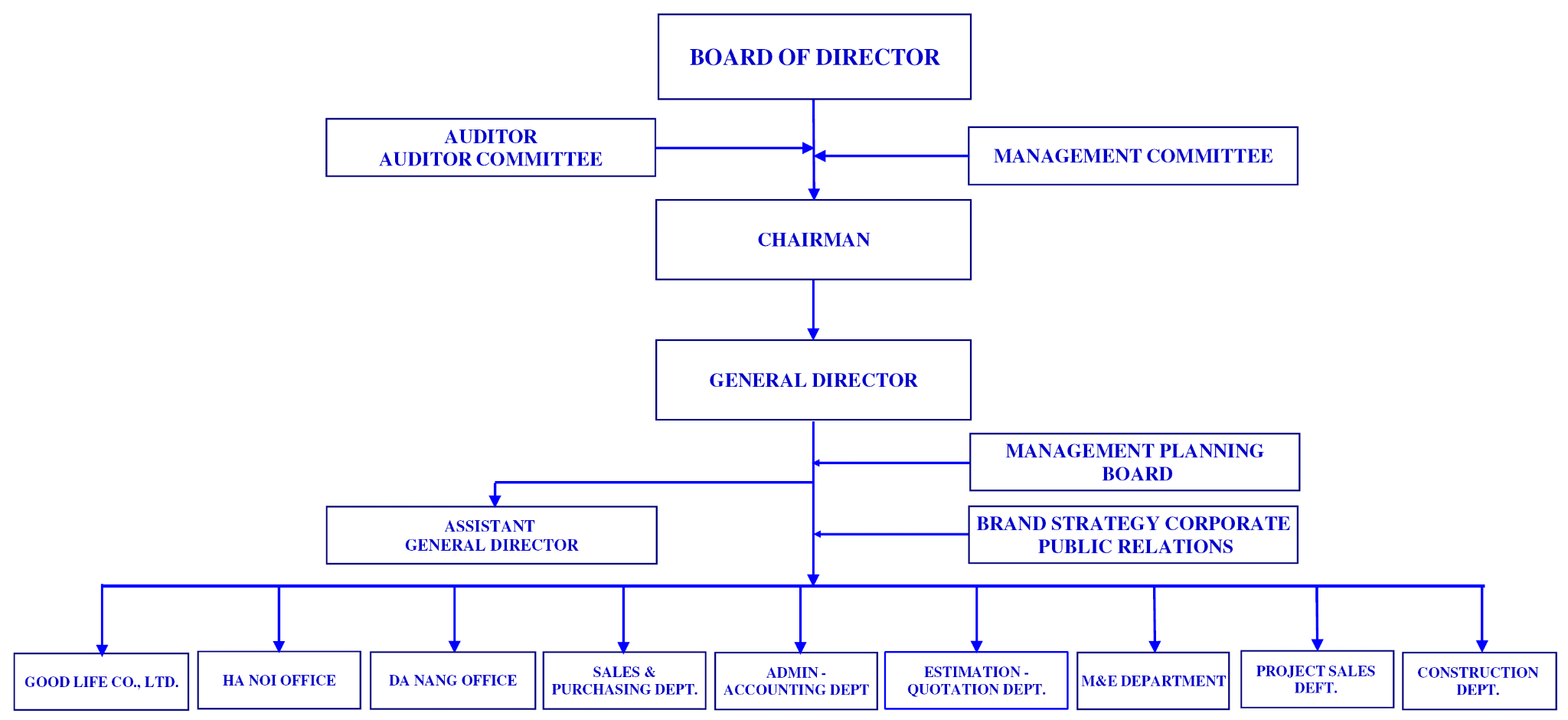 Certificates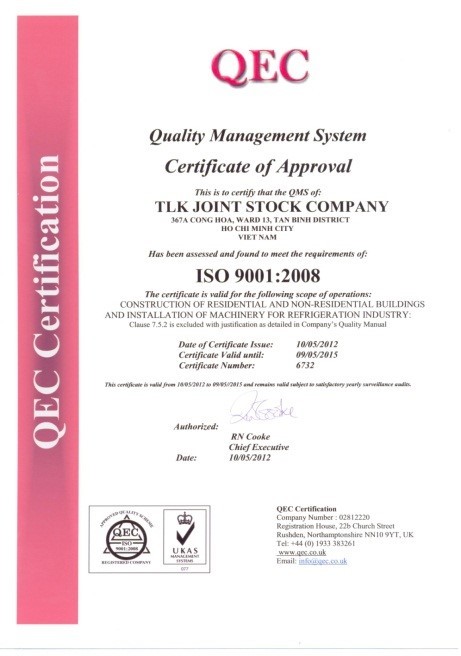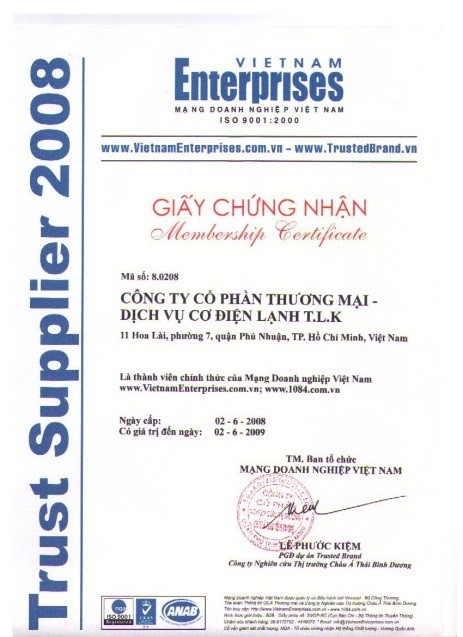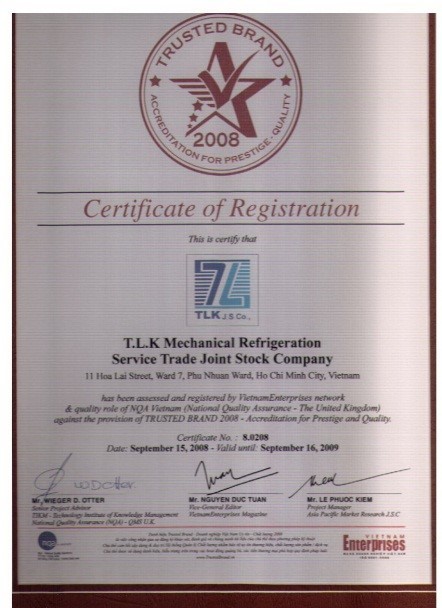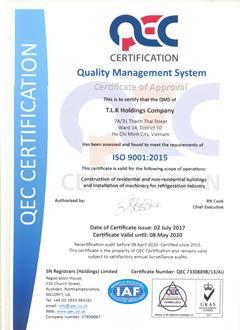 Clients
---
FACTORY
URAETEI – HIEP PHUOC INDUSTRIAL PARK – NHA BE DISTRICT
NIPPON PAPER VHM – TAN PHU TRUNG INDUSTRIAL ZONE – CU CHI
SUNNY HOUSE – LONG DUC INDUSTRIAL PARK – LONG AN
CCL – VIETNAM SINGAPORE INDUSTRIAL PARK – BINH DUONG
OKEN SEIKO – AMATA IP – DONG NAI
MUSASHI PAINT – AMATA IP – DONG NAI
FUJIYA – MY PHUOC 3 IP – BING DUONG
KAISE – LONG HAU IP – LONG AN
PROSH – NAM TAN UYEN IP – BINH DUONG
KYORITSU BUSSA – DONG AN2 IP – BINH DUONG
ASTEE HORIE – DONG AN2 IP – BINH DUONG
KBK – MY PHUOC 3 IP – BINH DUONG
OKATSUNE – NHON TRACK 3 IP – DONG NAI
HOGETSU – NHON TRACK 3 – DONG NAI
KOKEN – NHON TRACH 3 – DONG NAI
OSAKA FUJI – NHON TRACH 3 IP – DONG NAI
SANSHO – VSIP2 IP – BINH DUONG
IWASAKI – LINH TRUNG 2 EPZ – HO CHI MINH
NCL – BAU BANG IP – BINH DUONG
SATO IKEN – DONG AN 2 IP – BINH DUONG
TIM – LUONG BICH VILLAGE – BEN LUC DISTRICT – LONG AN
GOJO PAPER
S.K.R LE MINH
SEIWA KAIUN – SONG TAN 1 IP – BINH DUONG
MABUCHI MOTOR – BINH HOA 2 IP – DONG NAI
ELLE UN – KIZUNA – LONG AN
YAMABIKO – MY PHUOC 3 IP – BINH DUONG
GRAI ASIA – NHON TRACH 3 IP – DONG NAI
TECHNOPACK – KIZUNA – LONG AN
FSV INDUSTRY – NHON TRACH 3 IP – DONG NAI
YAMASHITA PLASTIC – NHON TRACH 3 IP – DONG NAI
AICA – TAN DUC INDUSTRIAL – LONG AN
DAIWA LANCE – TAN THUAN DONG EPZ – 7 DISTRICT
MARUEI – VIETNAM SINGAPORE INDUSTRIAL PARK – BINH DUONG
DAIYA ALUMI – TAN DUC INDUSTRIAL PARK – DUC HOA DISTRICT — LONG AN
KATSURA – LONG HAU INDUSTRIAL PARK – LONG AN
HOTEL & RESTAURANT
TRY (TADOKORO SHOTEN) – BEN THANH WARD – DISTRICT 1
TRY (MYSOYA AEON BINH DUONG) – AEON MALL BINH DUONG CANARY
SHOUKI – NGUYEN THAI BINH WARD – DISTRICT 1
RYOKO – BEN NGHE WARD – DISTRICT 1
OUGON CURRY – BINH DUONG BOULEVARD – THUAN AN TOWN
LA VITALIA – DISTRICT 9 – HO CHI MINH
FUJISAKURA – BEN THANH WARD – DISTRICT 1
EMPRESS HOTEL – BUI THI XUAN STREET – DISTRICT 1
GOLD STAR – TRUONG DINH – DISTRICT 3
SHOP & SUPPERMARKET
FAMILY MART
MINI STOP
AEON CITIMART(GO VAP)
AEON CITIMART (CAO THANG)
TRY(MISOYA)
ICHIHIRO (IMABARI TOWEL)
G7(OUGAN CURRY)
SHOUKI
RYU-KO
KOHNA
ABC BAKERY
MINAMOTO KITCHOAN
NIHONBASHIYA OBANYAKI
AZABUSABO
OFFICE
ALLEXCEED
INTELLIGENCE – LY CHINH THANG – WARD 7 – DISTRICT 3
SEIWA KAIUN
DENTSU ALPHA – BEN NGHE WARD – DISTRICT 1
NIPPON STEEL & SUMITOMO METAL – SUNWAH TOWER – BEN NGHE WARD – DISTRICT 1
SHIMA SEIKI – TAN THUAN DONG WARD – DISTRICT 7